Praxishandbuch zum Warnke-Verfahren: : Hören - Sehen - Bewegen: Wirksame Hilfe bei Automatisierungs-Problemen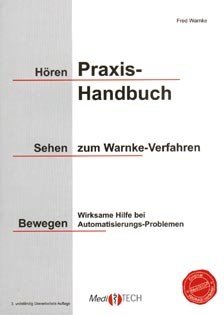 [
2270

]

Praxishandbuch zum Warnke-Verfahren: : Hören - Sehen - Bewegen: Wirksame Hilfe bei Automatisierungs-Problemen
---
A dynamic training program thrives on the fact that it is constantly changing and responding to new insights.
This book provides information about the current status of the Warnke method and its integration and support possibilities. The Warnke method: Hearing - seeing - moving: A dynamic training program lives from the fact that it is constantly changing and responding to new findings. Thus, the Warnke method has also developed further in some central areas. On this basis, the therapist's guide "We do not only hear with our ears" has been completely revised. Thus the new "Practice Manual for the Warnke®-Procedure" was created. In it, Fred Warnke conveys his latest state of knowledge in this field, the results of extensive data collection, results from several studies as well as insights from discussions with many users of the procedure. From child-oriented and realistic testing of the most important sub-functions of central hearing to low-level training and lateral training for all age groups (from pre-school children to adults), there is also a wealth of experience from the many experienced users of this method.
---
Ein dynamisches Trainingsprogramm lebt davon, dass es sich ständig verändert und auf neue Erkenntnisse eingeht.
So hat sich auch das Warnke-Verfahren an einigen zentralen Stellen weiter entwickelt. Auf dieser Basis ist der Therapeuten-Leitfaden "Wir hören nicht nur mit den Ohren" vollständig überarbeitet worden. So entstand das neue "Praxis-Handbuch zum Warnke®-Verfahren". Darin vermittelt Fred Warnke seinen jüngsten Wissensstand in diesem Bereich die Ergebnisse aus umfangreichen Datenerhebungen, Resultate aus meh­­­reren Studien sowie Erkenntnisse aus Gesprächen mit vielen Anwendern des Verfahrens. Von der kindge­rechten und realitätsnahen Prüfung der wichtigsten Teil­funk­tionen des zentralen Hörver­mögens bis hin zum Low-Level-Training und zum La­te­­raltraining für alle Alters­gruppen (vom Vorschul­kind bis zum Er­wachsenen) finden sich auch zahlreiche Erfahrungen aus dem Kreise der vielen erfahrenen Anwender dieser Methode.