Biofeedback - Measuring physiological signals and learning from it

The term biofeedback stands for training and treatment methods that measure specific body physiologies for analysis and feedback. Biofeedback is a well researched and highly regarded method within behavioral medicine. Primarily clinics, medical doctors, psychologists and therapists are providing biofeedback based services to their clients. But also in research, learning enhancement and sports peak performance training, our biofeedback solutions are often to be found and applied.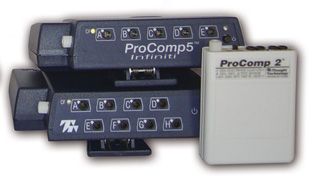 The following physiologies can be monitored and used in Biofeedback training:
Physiology / Measurements
muscle activity (EMG)

pain treatment, activation training, movement

skin conductance (SC = Skin conductance)

stress analysis, relaxation training

temperature
relaxation training, Morbus Raynaud, nerve related pain

heartrate / pulse (BVP / ECG)

relaxation, heart rate variability (HRV), (migraine treatment)

respiration
relaxation training, breathing technique, speech therapy

Force
movement analysis, rehabilitation, muscle activation training

Blood pressure

heart rate variablility (HRV), relaxation training, vasoconstriction

blood flow / Oxygination (near-Infrared: NIRS / HEG)

ADD/ADHD, concentration, migraine treatment, focus

brain waves (EEG)

ADD/ADHD, sleeping disorders, learning enhancement, etc.

slow cortical potentials (EP/SCP)

ADD/ADHD, learning enhancement, reaction time responses etc.

torsiometry, goniometry, inclinometry

posture, movement, rehabilitation, research

We are making our many years of experience with measuring and applying multi-physiological training systems fully available to you. On the one hand we offer tailored solutions fitting your expectations and requirements as well as your budget constraints. On the other hand - even more important - we are your longterm partner for questions and training, supporting you in optimal usage of your feedback technology: With online training, on-site training courses, frequent webinars and an intensive certified training program for Biofeedback and Neurofeedback trainers you will find the level and quality of support that you truly can expect and deserve when using biofeeback and related systems in your daily routine.

Of course we can provide you with combined solutions for biofeedback and/or neurofeedback. Aside from classic EEG based neurofeedback (which often suffers from movement related artefacts in ADHD clients or movement i.e. in sports) we can provide you with smart and easy to use HEG based neurofeedback solutions - a plug and play system without typical EEG related constraints. Furthermore our interactive biofeedback/neurofeedback catalogue provides you with a good overview of the broad range of solutions we can offer to you: