MediTECH Electronic GmbH
Unsere Lösungen - Unsere Philosophie - Ihr Nutzen
Wir helfen Menschen.
In 1996 MediTECH was founded by Ralph Warnke with 5.000 German marks and a 100 sqft cellar office. The initial goal of the company was to produce and market the unique training solutions invented by his father Fred Warnke. Under the flag of the trademark "Warnke method" new powerful training solutions were promoted to benefit children with learning problems and dyslexia. It proved to be important to provide optimal support and guidance for the professionals and families alike that use and used this training.

The company steeply invests into new research and development. With a select group of professionals among the company's user base (doctors, therapists, clinics, teachers and others) MediTECH now offers a number of product lines, for the most part with close ties to improving performance, learning and/or brain training. In close cooperation with researchers, health care professionals and other experts MediTECH continuously invents and develops new and improved test and training solutions, expanding the company's scope of products further.

Unser Ziel
It is our ultimate goal to continuously provide truly innovative solutions to our customers and partners, applying lateral thinking and creativity paired with expanding knowledge and expertise. The aim is to improve brain processing, perception, attention and in particular learning applying a better understanding of how the brain truly works. We want to help you to bring out the best in you: As a student or teacher, as trainer or therapist, as medical doctor or top level athlete, as acoustician or as an adult with hard of hearing issues.

Unsere Kernthemen sind dabei:
Lernförderung für Kinder (Aufmerksamkeit, Wahrnehmung, Lesen/Schreiben/Rechnen),

Hörverstehen für Erwachsene stärken (hörFit-Hörtraining),

Durch intelligenten Hörvergleich zum richtigen Hörsystem (AUDECOM: Das tragbare Hörstudio),

Biofeedback/Neurofeedback: Stress, Schmerz, Migräne, ADS und mehr behandeln,

Gleichgewichtstraining und Sturzprävention (MediBalance Pro bietet Test und Training),

Tinnitusbehandlung (Tinnicur bietet akustisch-gestützte Neuromodulation),

AUDECOM - Das mobile Erlebnishörstudio zum direkten Vergleichen von Hörsystemen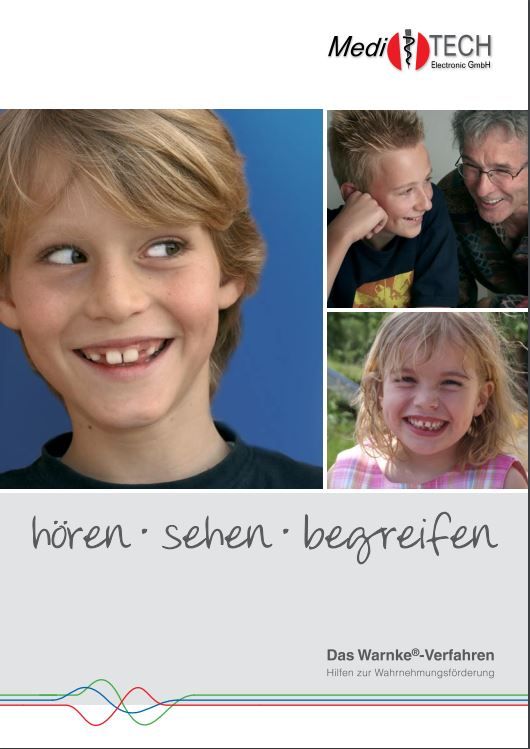 Weiterbildung und Netzwerken
With numerous courses and workshops amended by several certified training programs (i.e. in the field of learning enhancement, biofeedback/neurofeedback and sensory motor skills) MediTECH expands knowledge and competence of the company's user groups, in particular supporting the company's network of associated partners and professionals.

MediTECH continuously participates in key exhibitions and conferences addressing healthcare, biofeedback, (language) learning and brain processing. The company's ultimate goal is to establish and expand a worldwide network of professional users and to provide convincing and helpful training solutions to the end users.

If you are interested in working more closely with MediTECH and become an associated partner or when looking for a competent professional in your region, please contact us any time – it will be our pleasure to help.
Prinzipien und Werte
Unsere Beziehungen zu unseren Partnern und Kunden, zum Staat, zu ihren Mitbewerbern und zur Umwelt sind durch grundlegende Werte und Prinzipien bestimmen: Wir pflegen eine offene und faire Beziehung zu allen unseren Marktpartnern und erwarten umgekehrt eine gleiche Haltung uns gegenüber.
Mit fairen Preisen und hochwertigen Lösungen sichern wir den Erfolg des Unternehmens und damit eine Heimat für unsere Mitarbeiterinnen und Mitarbeiter. Eine langfristige Existenzsicherung und Weiterentwicklung des Unternehmens und eine Qualifikation unserer Mitarbeiter wird von uns durch die notwendigen Investitionen sichergestellt.
Working and cooperating in good faith with government agencies and other public institutions are likewise essential to us and our core belief as mandatory in order to support our free democratic basic order and our corresponding free and open society. Within our abilities we take action in order to maintain and improve environmental and working conditions. We provide a permanent home to our staff members and ensure to be a committed and reliable partner to our customers long term.