Qualitätsmanagement
Since 1999, we have had a quality management system in place, which is checked, evaluated and thus improved annually by an independent so-called Notified Body.
Our company is currently certified according to DIN EN ISO 13485:2016 (for medical device manufacturers).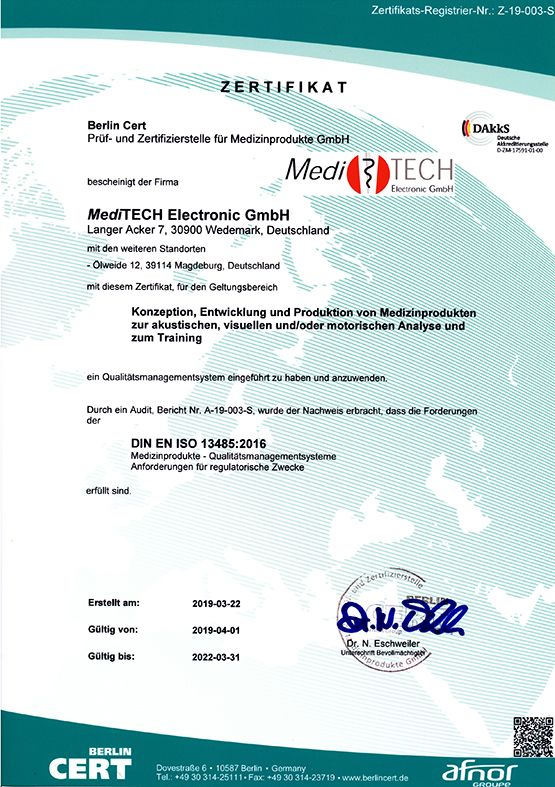 We pursue the following quality policy:
We make sure that our quality policy
is appropriate for the purpose of our company,

contains an obligation to fulfil requirements and to continuously improve the effectiveness of our QM system,

provides a framework for setting and evaluating quality objectives,

is mediated and understood in our company, and

is assessed for continuing appropriateness.
Basic
We use the quality policy as a means to continuously improve the actions and performance of our company. The quality policy is an equal and consistent component of the overall policy and strategy of our company.
When defining our quality policy, we take the following points into account:
Measurable customer expectations and wishes.

the nature and quality of the improvements required for the success of our enterprise,

Clear and measurable level of customer satisfaction and its increase

The further development of our employees (promotion of competence and motivation)

Requirements and expectations of other interested parties

Resources needed to go beyond the requirements of the underlying standards

Regional and international market leadership

Increasing the profitability of our company

Continuous improvement of our services, as well as the use of instruments to maintain the effectiveness of our QM system in accordance with Directive 93/42/EEC Annex II and DIN EN ISO 9001 and 13485.
The quality policy can be used for improvements provided that it
is compatible with the vision and future strategy of the management board

ensures that quality objectives are understood and implemented throughout the company

outlines the management's commitment to quality and the provision of adequate ressources to achieve the objectives

promotes a commitment to quality at all levels under clear management,

includes continuous improvement in terms of meeting customer wishes and requirements

is effectively formulated and efficiently communicated.
We have also set ourselves the following quality targets:
Creating trust:
through market-driven and qualitatively mature products

through competent advice and fulfilment of the promised quality requirements

through products that offer good value for money

through on-schedule processing of orders

through a professional and transparent company structure with a fixed structure and process organisation

by maintaining high standards and striving for continuous improvement of products and services
Facilitating team spirit:
through internal "customer-supplier" relationship

by clearly defining responsibilities and responsibilities

through a management style that promotes the individual responsibility of each employee.
The management considers the following quality objectives:
Goals to increase customer satisfaction (quality, complaint rate, readiness to deliver, adherence to schedules, service, customer gain and loss),

Leadership goals (corporate culture, communication with employees, information, praise, suggestion scheme),

precautions to protect health and safety at work,

Targets for reducing liability risks and minimizing risk.
The following results of previous evaluations will continue to be taken into account when setting quality objectives:
Results of the management review

Results in terms of product quality

Results of investigations to the satisfaction of all interested parties (customers and end users, employees, owners, suppliers and partners)
Testing
Management shall identify and provide the means necessary to achieve the quality objectives. All employees are obliged to provide the necessary information. The quality objectives, responsibilities and key figures are documented in the report of the top management. The report documents the measures taken and future measures taken to achieve the quality objectives.

The degree of fulfillment is determined and documented in regular performance reviews in which the entire workforce participates. Necessary changes and planning are documented in the corresponding meeting minutes.

Changes in the QM system are defined in cooperation with the employees involved; the QM system must be maintained during these changes.

Concrete objectives are defined and their achievement monitored as part of the regular management evaluation.

Informationspflicht gemäß MPG


Wir als MediTECH sind als Hersteller von Medizinprodukten gesetzlich dazu verpflichtet, unsere Kunden und Partner an leicht einsehbaren, öffentlichen Stellen über
sicherheitrelevante Probleme mit Produkten

Rückrufe von Produkten

Aufhebungen von Registrierungen, Zertifizierungen und Zertifikaten von behördlicher Seite
zu informieren.
In der Vergangenheit - also seit Gründung der MediTECH Electronic GmbH im Jahre 1996 - gab es für solche Informationen keinen Anlass. Wir bemühen uns mit aller Kraft und mit neuesten Erkenntnissen, diesen Standard auch weiter aufrecht zu erhalten und Rückrufe nie erforderlich werden zu lassen.
Sollten trotzdem einmal oben genannte Probleme auftreten oder Rückrufe erforderlich sein, finden Sie Informationen darüber an dieser Stelle.
Über Registrierungen und Zertifizierungen, die MediTECH und unsere Produkte betreffen, können Sie sich unter www.dimdi.de informieren.
Konformitätserklärungen
Hier finden Sie die aktuellen Konformitätserklärungen zu unseren gegenwärtig verfügbaren Produkten aus eigener Herstellung. Aus diesem Grund verzichten wir auf den Abdruck der Erklärung in den unseren Geräten beiliegenden Bedienungsanleitungen / Gebrauchsanweisungen.
Qualitätsmanagement
Unser Unternehmen verfügt seit 1998 als Medizinproduktehersteller über ein Qualitätsmanagementsystem, ursprünglich nach Richtlinie 93/42/EWG. Seit 2007 gilt die Zertifizierung nach ISO 13485.
Die Geeignetheit und Aufrechterhaltung der Zertifizierung wird in jährlichen Audits durch eine von uns unabhängige Organisation – einer sogenannten Benannten Stelle – überprüft.