Biofeedback - measuring physiological parameters and learning from feedback
With biofeedback you have access to a whole new world of analysis and training options. Measuring different types of physiological parameters and using their on the fly analysis to provide live feedback and to facilitate training improvements is the overall model of biofeedback. Biofeedback is a well researched method in the field of pycho-physiology and psychology. It is being used for research as well as practically in numerous clinics, by doctors and therapists and also with learning enhancement and sports peak performance.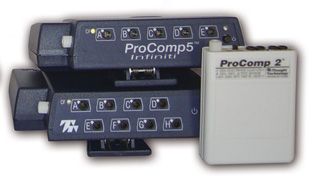 The Infiniti sytem allows for you to measure the following (and other) physiological parameters and to provide corresponding feedback training for your clients:
Physiology / measuring options and areas of application / target groups
Muscular activity (EMG)
Schmerzbehandlung, Aktivierungstraining, Bewegung
Skin conductance (SC)
Stressanalyse, Entspannungstraining
Temperature
Entspannungstraining, Morbus Raynaud, Nervenschmerzen
Heart rate / pulse (BVP / ECG)
Entspannung, Herzratenvariabilität (HRV), (Migränebehandlung)
Respiration
Entspannungstraining, Atemtechnik, Sprachtherapie
Force
Bewegungsanalyse, Rehabilitation, Anspannungstraining
Blood pressure
Herzratenvariabilität (HRV), Entspannungstraining, Vasokonstriktion
Near-Infrared spectroscopy (NIRS / HEG)
ADS/ADHS, Konzentration, Migränebehandlung, Fokus
Brain waves (EEG)
ADS/ADHS, Schlafstörungen, Lernförderung, uvm.
Evoced potentials / slow cortical potentials (EP/SCP)
ADS/ADHS, Lernförderung, Reaktionszeittraining uvm.
Torsiometry, goniometry, Inclinometry
Posture, Movement, Rehabilitation, Research
You can expect for us to put our many years of experience in this field to optimal use for you and your projects. On the one hand we will be happy to define a system solution custom tailored to your needs, expectations - and budget. On the other hand we provide competent support for all your questions, training requirements and any other type of help you may require in regards to integrating this great solution into your daily work routine: We conduct online training, seminars on site / on demand, frequent webinars and provide other certified training programs for you. This way we can ensure that you receive exactly the level of support and training you require and rightfully expect to utilize biofeedback in your daily work routine with ease.
Of course our solutions also offer a combined usage of biofeedback and neurofeedback. Aside from EEG based neurofeedback we also offer the truly smart and easy to use HEG (NIRS) based neurofeedback training - basically a plug and play solution, easy, convenient and appealing to your clients. Our interactive biofeedback / neurofeedback catalog provides you with a great overview of our solutions and corresponding broad range of options and components: