Auditory training
Brain performance training

MediTECH for improved perception and auditory processing
More and more people suffer from growing everyday noise. Hearing comprehension, especially in noisy environments, often becomes increasingly difficult as early as 40+. And in many cases the hearing ability of the ears is impaired to such an extent that additional help is required from 60+ onwards at the latest. This is where hörFit hearing training comes in: In a first step, central hearing functions such as directional hearing, pitch discrimination and sound comprehension are tested in background noise. Depending on the systematically collected results, targeted neural hearing training is then set in motion, in which important basic functions for safe listening comprehension between the ears are promoted and trained. As a rule, such training lasts about 4-6 weeks and is carried out daily during this time with a special training device. If there are also restrictions on the ears, additional hearing training systems are used for support, which can be specially adjusted to promote the training process and are consistently worn by the trainee during this period.

Mehr Informationen finden Sie in unseren Info Kanälen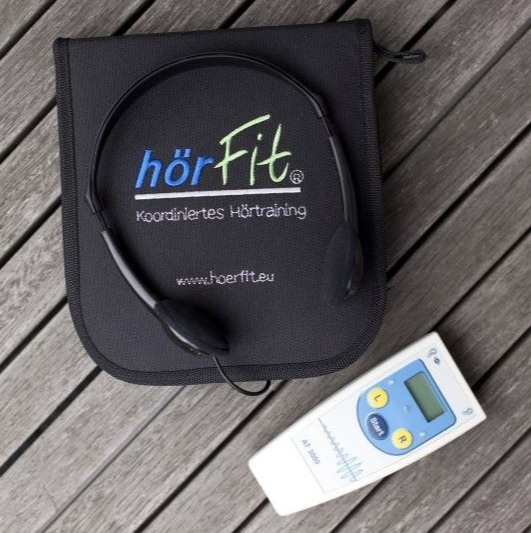 The AudioFitness Auditory training
AudioFitness is a widely established hearing training method, especially in the German-speaking world. AudioFitness uses the latest findings of the brain research and can promotes the basic functions of speech processing such as directional hearing, pitch discrimination or sound recognition.After an appropriate analysis of the listening comprehension and its underlying skills, the training will be done with the Audio-Trainer AT-3000. The training system is easy to use and can be done independently at home every day, which helps you improving your listening habits and listening comprehension.
AudioFitness hearing training has been offered and used for adults since 2000. Many acousticians in Germany use audioFitness not only to help their customers with a good hearing system but also to support them on their way to better hearing comprehension in everyday life and thus more quality of life and participation. An overview of qualified acousticians and specialist shops can be found below:
AudioFitness App
Hearing training can now be done easily from your smartphone. With the AutoFitness training app, you can simply improve your central hearing functions and keep yourself constantly fit - comparing with other people around you and in your age.
Download the App now and get started!